Pelco Repair Spectra II Specialists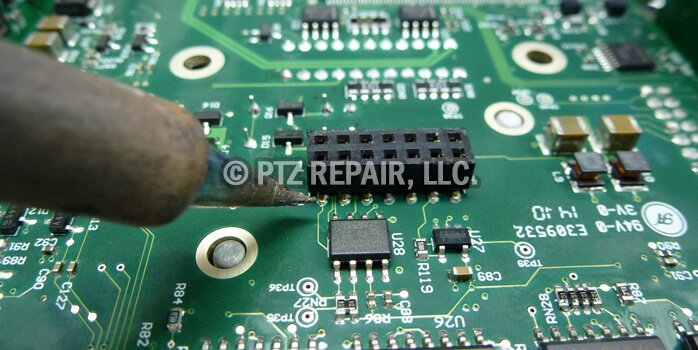 PTZ Pelco Repair, LLC EXCLUSIVELY Repairs and Sells New and Refurbished Pelco brand products.
Have your Pelco Spectra II PTZ Camera refurbished by the Pro's or buy a fully refurbished replacement Pelco Spectra II Camera with fast shipping, then at your option send your old Spectra Camera back for a core credit.
Pelco Spectra II Premier
Integrated Dome System
The Spectra II® Integrated Dome is the perfect surveillance system for demanding applications. The system is noted for its high acceleration rate and smooth, steady motion. Variable speed capabilities range from a smooth, fast pan motion of 250° per second to a smooth "creep" speed of .1° per second.
Spectra II Premier Integrated Dome System consists of a back box "commonly called the housing or bucket", dome drive "commonly called the Spectra II® PTZ camera dome", and lower dome "commonly called the bubble or lens and comes in several attributes such as clear, smoked, gold etc." , which may be ordered either as a complete system, or as separate components.
PTZ Repair, LLC has a large inventory of Pelco replacement items in stock and ready for immediate shipment.
Pelco Spectra II Premier Integrated Dome System is available as either an in-ceiling or pendant mount model. The in-ceiling system may be installed in either suspended or hard ceilings.
The pendant model mounts directly to any recommended mount, flush to a ceiling, or to 1.5-inch NPT female threaded pipe. All outdoor pendant models are environmentally sealed to a rating of NEMA 4X and IP66 and include a sun shield, heater and fan.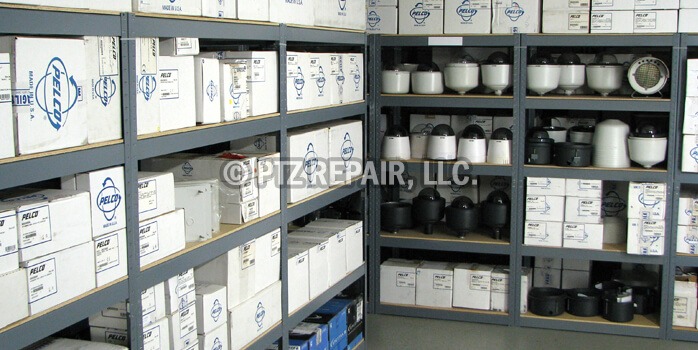 We have one of the largest in-stock inventories in the United States. Save over 50% compared to buying new with our Pelco refurbished equipment. With over 300 Pelco Spectra dome PTZ cameras in stock.
Along with video switchers, multiplexers, fiber optic and Pelco PTZ IP network modules.
Pelco Spectra II Repair FAQ
PTZ Repair, L.L.C. only performs full refurbishing of your Pelco PTZ camera, because we ONLY work on Pelco products, and even taking it one step further to specialize in the Pelco Spectra Dome PTZ series cameras and the affiliated Pelco equipment used to make up a complete surveillance system, centered around the Spectra series PTZ camera. That being said we first diagnose and repair your Pelco Spectra camera, then we go through each sub-component, inspecting and replacing all necessary parts, utilizing our in depth knowledge of the Pelco Spectra series and applying all hardware and software updates. in most cases taking care of problems with aged units that have not even become apparent yet while improving video quality.
That's easy, if someone needed heart surgery, would they go to a general surgeon? Probably not a good idea. The same concept PTZ Repair, LLC utilizes. Repairing only one brand (Pelco) out of MANY!!, Then further narrowing the specialty within the Pelco brand to the Spectra Dome series PTZ and affiliated equipment. Now that's "SPECIALIZING". Trust the EXPERT technicians at PTZ Repair, LLC to repair your Pelco CCTV surveillance equipment right the first time, just as important is the vast wealth of knowledge our technicians have (Remember? We ONLY work on the Pelco Brand) to help you diagnose what piece of equipment in your overall Pelco Surveillance system has failed and is in need of repair.
Common Pelco Spectra II Models
16x Optical Zoom B&W capable of producing image under both normal and IR lighting
16x Optical Zoom Color and is categorized as a Pelco Spectra II Lite (fewer features than standard Spectra Dome II Models)
16x Optical Zoom Color, Base Model with standard features of the Spectra II Series
16x Optical Zoom Color, Advanced features such as DSS (Digital Slow Shutter)
22x Optical Zoom Color, Similar features of the DD5BC but with advanced 22x Zoom (best of the Spectra II full time color models)
18x Optical Zoom Day/Night, The top of the line Pelco Spectra II Dome model, producing a color image under normal lighting conditions, while having the ability to automatically switch to Night (B&W) mode allowing Images to be captured under substantially lower light levels than the color mode. Another powerful feature of the Night (B&W) mode is the ability to use Infra-Red (IR) from moonlight or an IR emitter.