Pelco Repair Spectra III Servicing
PTZ Repair, LLC EXCLUSIVELY Repairs and Sells New and Refurbished Pelco brand products, have your Pelco Spectra III PTZ Camera refurbished by the Pro's or buy a fully refurbished replacement Spectra III Camera with fast shipping, then at your option send your old Spectra Camera back for a core credit. You're Pelco Repair specialists.
Spectra III™ Series Dome System
The Spectra III™ Series Dome System is a cost-effective alternative to Pelco's popular Spectra III™ SE Series Dome System. The Integrated Dome System consists of a back box also known as the Pelco Spectra III housing, dome drive also known as the Pelco Spectra III PTZ dome camera, and lower dome also known as the lens or bubble and comes in several options such as clear or smoked.
Components may be ordered as a complete system or separately. PTZ Repair, LLC has a large inventory of Spectra III components in stock ready for fast shipment.
Most components of the Spectra III PTZ series are interchangeable allowing you to upgrade the PTZ dome camera without replacing the remaining components.
Spectra III Series back box options include an environmental in-ceiling model that is ideal for outdoor soffits, an indoor surface mount, indoor in-ceiling model and pendant styles for standard "indoor" and environmental "outdoor" installations. Given you the flexibility to move you're Pelco Spectra III dome drive PTZ camera from indoors to outdoors or outdoors to indoors by simply changing the back box or housing.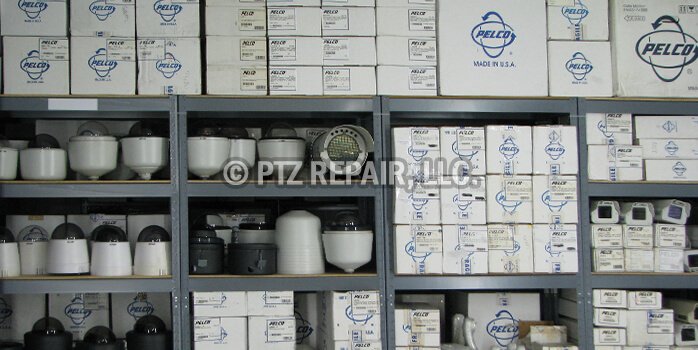 We have one of the largest in-stock inventories in the United States. Save over 50% compared to buying new with our Pelco refurbished equipment. With over 300 Pelco Spectra dome PTZ cameras in stock.
Along with video switchers, multiplexers, fiber optic and Pelco PTZ IP network modules.
Pelco Spectra III Repair FAQ
PTZ Repair, L.L.C. only performs full refurbishing of your Pelco PTZ camera, because we ONLY work on Pelco products, and even taking it one step further to specialize in the Pelco Spectra Dome PTZ series cameras and the affiliated Pelco equipment used to make up a complete surveillance system, centered around the Spectra series PTZ camera. That being said we first diagnose and repair your Pelco Spectra camera, then we go through each sub-component, inspecting and replacing all necessary parts, utilizing our in depth knowledge of the Pelco Spectra series and applying all hardware and software updates. in most cases taking care of problems with aged units that have not even become apparent yet while improving video quality.
That's easy, if someone needed heart surgery, would they go to a general surgeon? Probably not a good idea. The same concept PTZ Repair, LLC utilizes. Repairing only one brand (Pelco) out of MANY!!, Then further narrowing the specialty within the Pelco brand to the Spectra Dome series PTZ and affiliated equipment. Now that's "SPECIALIZING". Trust the EXPERT technicians at PTZ Repair, LLC to repair your Pelco CCTV surveillance equipment right the first time, just as important is the vast wealth of knowledge our technicians have (Remember? We ONLY work on the Pelco Brand) to help you diagnose what piece of equipment in your overall Pelco Surveillance system has failed and is in need of repair.
Common Pelco Spectra III Models
22x Optical Zoom B&W capable of producing image under both normal and IR lighting (excellent low light level capabilities)
16x Optical Zoom Color (The most common Pelco Spectra Dome III PTZ model, normally used indoors)
22x Optical Zoom Color, offering advance Spectra SE features, with a higher power zoom and lower light capabilities than the Spectra DD53TC16 model (will work outdoors under proper perimeter lighting)
18x Optical Zoom Day/Night, Pelco Dome III PTZ capable of color (during daytime or normal light) and B&W (during nighttime or challenging light conditions) also works well with Infra-Red light emitters during night mode.
23x Optical Zoom Day/Night, Advanced Pelco Spectra SE series features included, more powerful Zoom than the DD53CBW18, this feature packed camera puts it at the top of the class for the Pelco Spectra 3 Series of cameras.
This model Pelco Dome III PTZ is an exact replicate of the Pelco Spectra III PTZ DD53CBW and the ONLY difference was simply the Model/Serial number tag placed on the outside of the camera, Pelco used both numbers to represent the same PTZ Camera.